Digital Transformation for Financial Services industry
Global banking is moving from a wave of boom-to-bust credit to a transformation defined by digital. Many banks have embarked on a digital journey and are exploring the purpose of the digital transformation. In most cases, getting digital is defined as
Innovation in payments
Enablement of broader systems transformation through digital technologies
While most industry pundits agree that digital innovation in banking offers both potential rewards and costs, they however predict that revenues and profits that will eventually migrate to banks who
Successfully use digital technologies to automate processes
Create new products and revenues that leverage digital technologies
Improve regulatory compliance
Transform customer experience
Disrupt key components of the value chain
It is widely believed that businesses that resist the digital revolution will be severely penalized by customers, financial markets and in some cases, regulators. A recent McKinsey study reveals that digital laggards could see a profit erosion of close to 35% while digital companies could possibly see a profit upside of 40%.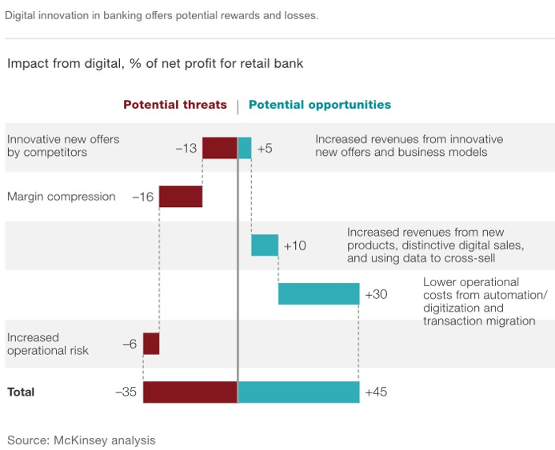 DIGITAL BANKING STRATEGY – MARKET OVERVIEW
Globally, banks are embarking on transformation projects that will enable them to embrace the digital world. While much of the compulsions to undertake such sweeping changes are driven by the explosion of consumer technology, banks however are taking small and significant steps on the transformation trajectory. Bulk of the digital transformation projects today consist of
Migrating transactions to newer digital platforms
Significantly upgrading web and mobile technologies
Creating a presence on social networks
Data based cross sell & up sell platforms
Cultural transformation initiatives that take the banks from their current state to the culture of digital native companies such as Creating Innovation Centers and Testing Centers.